I have heard a lot of complaining these days about the monotony of Indian vegetables and the variety of foreign veggies ... I have heard cribbing and complaining with no real action. Have even 10% of urban Indians bothered to find out what vegetables are available? No. There are tonnes of Indian vegetables and we just need to go out there and make a little effort.
Added to this in the last few years have been my discoveries of what are called
raanachya bhajya
or forest greens eaten all over Maharashtra in the Monsoons. Traditionally summer is a time for stored, dried beans and dals and the monsoons, before the longer growing vegetables are ready, are the time for foraging and eating fast growing and freshly sprouting vegetables from the forests, field boundaries and the
charai
(grazing) lands.
My fascination for these took off with the 'shevaal' (
Amorphophallus
commutatus
) that I saw sprouting at my excavation site in 2012. These would be quickly appropriated by the first labourer to see one. Shevaal is a great favourite along the Konkan and is cooked with mutton mince or with dried prawns ... Kunda Maushi makes it amazingly well and she showed me how the stamen is to be removed and discarded and how the shoot/flower needs to be soaked in salt water otherwise it leads to a very itchy throat. My friend Soumitra Velkar also posted a
shevaal recipe
which reminded me that I must keep an eye out for the shoots this monsoon.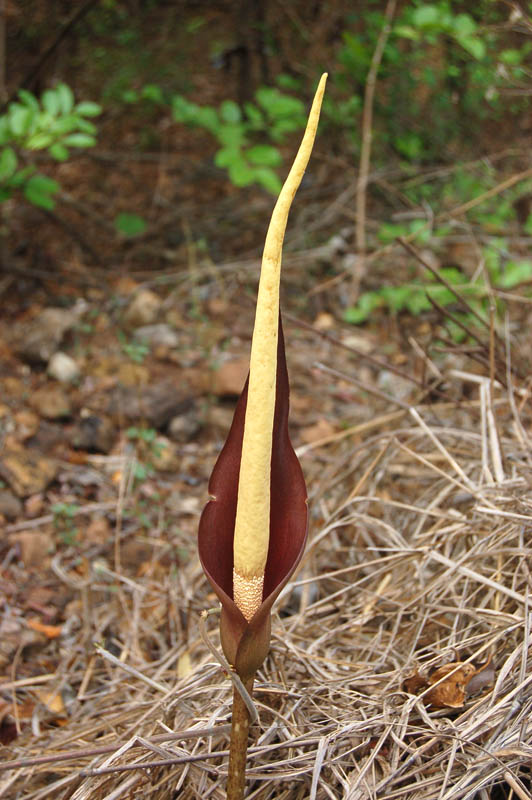 Image Credit: http://www.indianaturewatch.net/images/album/photo/1121821107466becf31f5ef.jpg
A few days later my friend and colleague Dr Suraj Pandit came over to the University for a meeting and his lunchbox had a vegetable I had never seen or heard of before ... gentle probing led to the interesting story of a vegetable to be eaten at least once a year in the monsoons (supposedly for its therapeutic values according to Ayurveda) called Shatavari. It was slimy, chewy and faintly oniony till you got a grip on the leaves which, when crushed tasted quite unique. You won't have me clamouring for it but I wouldn't turn it down either.

When I asked our senior resident botanist Dr Lattoo he laughed and told me I was eating wild asparagus - Asparagus racemosus . I realised when I googled it that the damn thing used to grow wild in a pot on my balcony for years!



The third wild veggie I ate this month was a real surprise I hadn't eaten it in years and had only heard my friend
Rushina
say they were sometimes seen in Grant Rd Bhaji Galli - fiddlehead ferns. They are a great treat in Canada and Canadian friends regularly post pictures on Facebook ... but I was pleasantly surprised to hear that they are a rage in Bengal, Assam, Nepal and parts of the Northeast. The Bengalis call it
dhenki shaak
and the Assamese call it
dhekia xaak
.
We'd gone over to
Gitika's
for an amazing Assamese tribal meal last week and lo behold! She had made Pork with Fiddleheads! Needless to say much happiness was derived.
Image Credit: The
Sassy Fork
As I was driving to work yesterday AIR FM 100.7 had a lovely programme in Marathi in the afternoon around 1pm which was discussing these veggies ... there were at least 25 different veggies they named and they advised new cooks to ask the old 'maushis' selling them for cooking tips. What a lovely yet simple way of keeping tradition alive.
So if you think there isn't enough variety in vegetables just visit the smaller neighbourhood markets and look around for things you don't recognise. And take the plunge!